By AIR14
February 05, 2010
Congratulations to AIR14 Headline Grabbers James Franklin, Matt Joeckel, Brett Maxie Jr. and Michael Pruneau!
By AIR14
January 28, 2010

AIR14 participates in the OldCoach.com Combine (Grand Prairie, Texas)
Kevin Murray (AIR14) participated in the TheOldCoach.com Combine held in Grand Prairie, Texas on January 23, 2020.  Kevin was the Quarterback Coach on staff.  To read more about the combine visit the official website at
www.TheOldCoach.com
.
By AIR14
December 03, 2009
Congratulations to Jerrold Johnson, a consensus all Big 12 QB for the 2009 season!
By Kirk Elder
November 04, 2009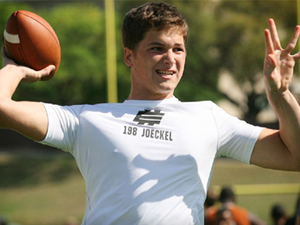 TexAgs.com