Welcome to
AIR14 Quarterback Academy
, the premier tutor of Quarterbacks in the state of Texas.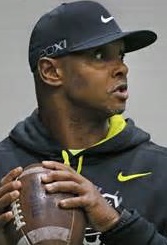 Air14's primary objective is to develop young quarterbacks; helping them to reach their full potential by teaching the fundamentals and skills through reinforced repetitions of precise drills, with a strong emphasis and concentration on character development and leadership, based on my own past experiences and performances.
Air14 will become known for developing Division I & II level quarterbacks through it's method of teaching the fundamentals of playing the QB position and reinforcing the passing game.
Founder/President